Let us Empower ourselves with Right Knowledge,
Insight and Wisdom in the World of Investments
We need to learn to ask the right questions.
We need to understand what to avoid .
Why should a long term investor always prefer "Right process over proceeds"?
Why does right process in Investment helps an investor as double edged sword? At one end it helps us to create long term sustainable wealth and at other end it helps us in avoiding costly mistakes.
We have to implement appropriate strategies at various turns in business cycle.
Important strategies are - Asset Allocation
- Sector Rotation
- Diversification
- Timing the market
- Selecting the right stock within that preferred sector
The key lies in successful implementation of these strategies and which will result in creating that "ALPHA".
Why exit strategies play an important role in protecting the wealth created in the good part of the cycle? We need to have pre-defined exit strategies in place before investing in deep cyclical asset class like equity. We believe that the most important decisions to an Equity Investor are:
- "When to sell "
- "When not to buy"
- "What to avoid"
- "Which scheme to select at that given point of business cycle".
Long Term Investment Horizon is core to our investment philosophy. The name "EQUITY HARVEST" stems out from that Core Investment Philosophy that we have nurtured over past decade.
The macro economic environment is very dynamic and ever changing. We need to understand the change and put it to our advantage.
Example: If our research indicates that there are valid reasons which will make indian currency to depreciate ,than in that scenario we need to position ourselves accordingly and get an enough exposure to export oriented schemes. Thus we should increase our exposure in sectors like IT - ITES. Also we can prefer to invest in good international funds via some feeder funds available at that time.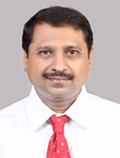 Mr. Rajesh Dedhia
Director
Mr. Rajesh Dedhia (Director) is an Engineer by qualification and Research Analyst by Profession. He has over decade of experience as Equity Research Analyst. His domain (Sector) expertise is in IT-ITES, Telecom, Auto, Auto-Component, and Engineering Sectors. This experience as research analyst is an edge which helps him in identifying and suggesting the right Mutual Fund Schemes across various turns of the business cycles. He always has a pre-defined exit strategy in place which will help the Investor to create sustainable wealth.
As an mutual fund distributor Mr Rajesh Dedhia will act as a bridge between the fund manager and the investor in that scheme. At regular intervals he will communicate the fund manager's strategies to the Investor. This will help the investor to act like a informed investor and have confidence in the investment he has made throughout the holding period. This will bestow in him the much needed conviction as an LONG TERM INVESTOR.
Mr. Rajesh Dedhia has established long standing relationship with high networth individuals and corporates in mumbai and pune.